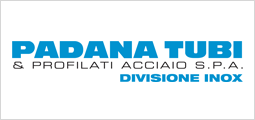 PADANA TUBI & PROFILATI ACCIAIO S.p.A.
DIVISIONE INOX

42016 Guastalla RE - Via Portamurata, 8/a
info@padanatubi.it
www.padanatubi.it
Padana Tubi & Profilati Acciaio was established in 1970 in Guastalla by Alfieri family with the aim to produce welded tubes and pipes in carbon steel.
Over the years, the company has continuously grown and developed, and several other plants were added to enlarge its production range with diversified raw material qualities and a considerable enrichment in finished product shapes.
Thanks to its sales, marketing, and logistic services, the company can reach all European and non-European countries, ensuring its consolidated and reliable presence in many service centres and steel product distributors.
All tubes are submitted to on-line controls during the production stage through the Eddy Current system. Furthermore, all mechanical tests, chemical composition analyses, and macrographic examinations through optical microscope, are carried out in the company's in-house laboratory.
Stainless steel tubes are produced in compliance with the following standards and directives: EN 10296-2 / EN 10217-7 / Directive 97/23/EC (PED).
The company is certified in compliance with UNI EN ISO 9001 standards.