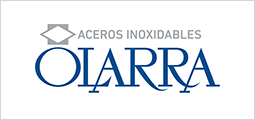 ACEROS INOXIDABLES OLARRA S.A.
48180 Loiu (Vizcaya) España - C.M. Larrabarri 1
aiosa@olarra.com
www.olarra.com
Production and sale of austenitic, ferritic, martensitic and duplex stainless steels. Hot rolled billets. Hot rolled peeled round bars; cold drawn, ground round bars; hexagonal and square drawn bars. Pickled hot rolled square. Pickled hot rolled wire rod. Hot rolled and pickled flats. All the above listed profiles are produced also in MECAMAX® steels, improved machinability stainless steels.