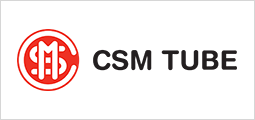 CSM TUBE S.p.A.
31013 Cimavilla di Codognè TV - Via del Lavoro, 60
info@csmtube.com
www.csmtube.com
CSM TUBE is leader in the manufacture of stainless steel and high nickel content alloys tubes. It produces LASER and TIG welded tubes, not heat-treated and heat-treated in controlled atmosphere on a range of 60 different diameters included from 4.00 to 28.00 mm with wall thickness ranging from 0.30 to 1.50 mm. Tubes are supplied either in coils or straight and cut to length up to 20 meters.
The company is certified in compliance with ISO 9001/2008 – OHSAS 18001 – ISO 14001 international standards.