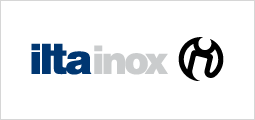 ILTA INOX S.p.A.
26010 Robecco D'Oglio CR - Strada Statale 45 bis, km 13
sales@ilta.arvedi.it
www.arvedi.it/ilta
Austenitic, ferritic, and duplex TIG and laser welded tubes for all applications. Outside diameter from 6 to 1,000 mm – thickness from 0.7 to 10 mm. Tubes supplied with commercial length from 6 m and fixed length from 0.5 to 20 m. Finishes: brushed, pickled, Bright Annealed, annealed and pickled, inside and outside satin finish, outside polished.