Inossidabile Magazine 220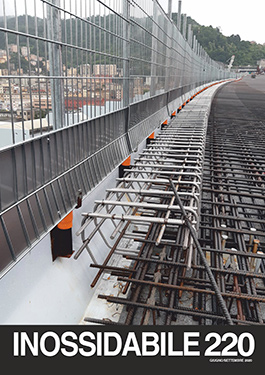 Cover:
Stainless steel rebar: safety
and durability for the Genoa bridge
(JUNE/SEPTEMBER 2020)
An announcement to the readers of INOSSIDABILE
From our Members
CSM GROUP, the 360-degree innovation from
Veneto region: a successful way in industry 4.0
Corrosion behaviour of stainless steel long products with different delivery conditions (second part)
The stainless steel cloud gate
Champagne for Nizza Paradise Residence
Stainless steel insulation systems
News:

"Corrosion: stainless steel and super-alloys.
Advanced theoretical and practical course"
22-23-29-30 October 2020
Study day "FCMs (MOCA) and welding"
Genoa, 27 October 2020

Oil on canvas? Better, oil on… stainless steel!